Mini Motorways: Tips and tricks for new high scores
Developer Dinosaur Polo Club's Mini Motorways isn't nearly as easy as it first appears. The longer you play, the more it depends on precise planning and you have to think carefully about what you are doing.
There are a few things you should consider when planning your own road network to avoid premature gridlock. In our Guide we have some for you Tips and Tricks to Mini Motorways compiled.
Pay close attention to the colors and their distribution
The most important lesson in Mini Motorways is that cars of a certain color only go to buildings of that color. It is therefore important that you pave the way for them without these paths becoming blocked over time. That requires good planning. Ultimately, it can definitely be better if cars have several different routes at their disposal instead of just taking a direct route to their destination. But not always.
Especially in the later course of a level, you basically cannot avoid sending several colors onto the same street. Especially at the beginning you should see if you can't separate individual buildings and houses from everything else. Four to five houses are usually enough to plow a building of the same color. If you succeed in making such separations efficiently, you save sections of road and relieve traffic.
You can change house entrances
When new houses spawn on the map in Mini Motorways, the front often faces in a certain direction. This is not permanent. You can change the direction of a house's entrance at any time. This is especially useful when trying to build single clusters of the same color. Depending on the layout, you can also save street pieces. A good option is to have two or three houses converge to form an intersection, which then opens onto the main street.
Autobahns are a great relief
Autobahns can be a real relief in Mini Motorways if you get them and then use them properly. You can build a highway over other buildings and roads. This is especially useful when a new building or upgrade suddenly pops up on the other side of the city and there are no houses of the corresponding color nearby.
It is therefore advisable to always take the Autobahn if you have the choice. Unless you really need street pieces.
Remember that a highway can be as long as you want without using up any road pieces. You should make use of this. Only mountains can stand in the way of a motorway, but nothing else.
Just like normal road blocks, you can remove and rebuild a highway. Sometimes it is also worthwhile to completely replace an existing road layout with a motorway. Flexibility is the be-all and end-all in Mini Motorways.
Build efficiently and diagonally to save street pieces
The key to success in Mini Motorways is building efficiently. You'll learn a few things as you play. One of them is that you can save road pieces if you simply draw roads diagonally instead of steering them around curves. So you ultimately have more of these valuable road pieces available and can use them elsewhere, where you need them.
If you ever get to the point where you have an abundance of road pieces, you can try to open up your roads or build alternative routes to relieve the traffic a little. The right balance is important here.
Nothing is forever
The further you advance in a level in Mini Motorways, the more complex everything becomes. Depending on the new situation, it might be necessary to make adjustments. You should definitely use the pause function. Here you can take your time and make changes.
Especially later, every step should be carefully considered. Equally important: Be prepared to constantly throw things overboard. If a new situation arises, it may be worth adapting your road network to the new conditions in order to avoid traffic chaos.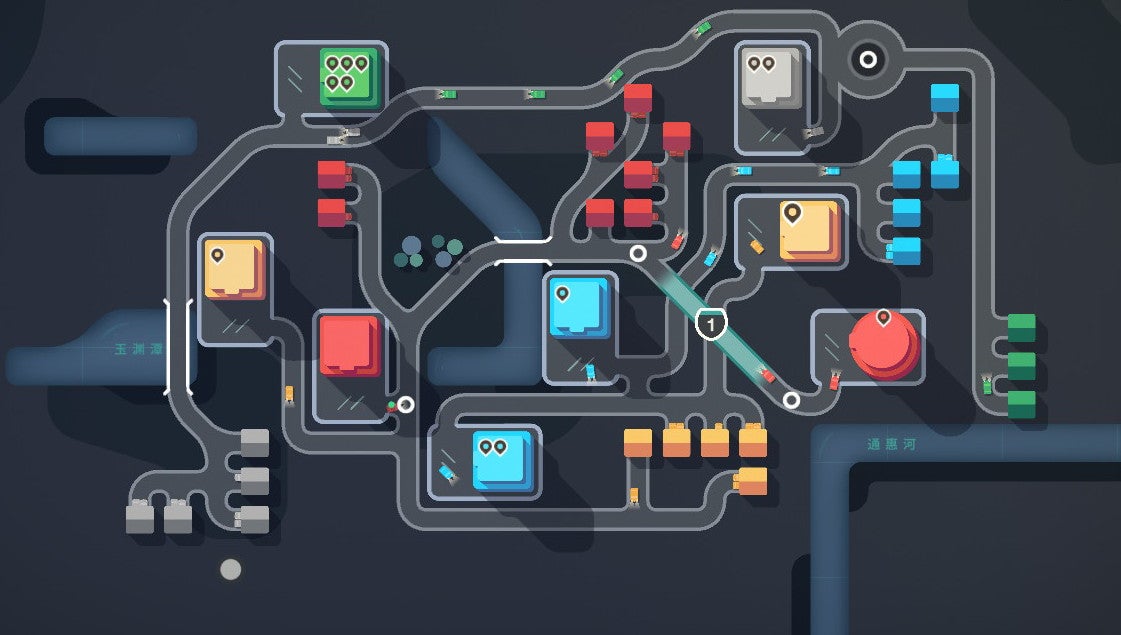 Spinning tops are a wonderful option…
There are also roundabouts in Mini Motorways. And you shouldn't underestimate their power. They make traffic flow easier in the game, especially in places where roads with different colors converge. If you have any, use them!
Traffic lights, on the other hand, less
You can safely ignore the traffic lights in Mini Motorways while you are driving roundabouts. They are not the most optimal solution for traffic flow as they temporarily halt traffic when the traffic light is red. In places with heavy traffic, there is no way around roundabouts. If you want to use traffic lights, then in areas with less traffic, such as in front of houses.
Brevity is the soul of wit
Roads that are too long are ultimately inefficient. Whenever possible, you should make sure that the cars from your houses are never on the road for too long. Ensure short access routes to the buildings so that you don't have to take turns later and your cars don't arrive at their destination on time. In the later course of the level it can therefore be worth throwing entire road networks overboard and replanning as soon as new buildings have emerged.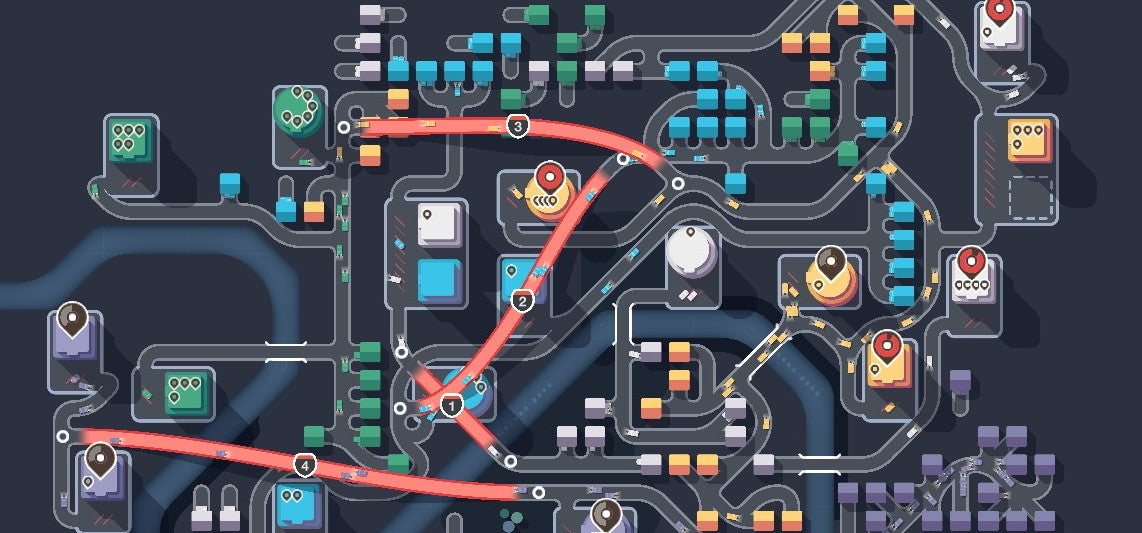 Groups houses together
When multiple houses of the same color appear in an area in Mini Motorways, connect them together and then let a road lead from there to the main path. Avoid connecting each house individually to your main street, otherwise there will be delays.
It is worth merging groups of houses into a kind of district and then leading to the nearest building of the same color. At the same time, you should keep in mind that you don't necessarily have to connect every house that appears with a street. Only do this if it is really necessary, this will also save you road pieces in the end.
Blocks spawn places
You can try to trick Mini Motorways' spawn system by simply placing individual road pieces through where you don't want anything new to spawn. It doesn't matter whether it's a house or a larger building. Simply place a few individual road pieces in the landscape that are not connected to other roads to avoid spawns.


Reference-www.eurogamer.de