The Lord of the Rings: Gollum – Will you let Gollum or Sméagol win?
Elijah Woods did a fine job, Orlando Bloom won millions of hearts and Ian McKellen became a generation's favorite uncle, but the unsung star of Peter Jackson's films was Gollum, played by Andy Serkis. And so that should be one of the reasons why Daedalic is knitting a game about the equally nasty and lovable "treasure hunter" even with a lot of delay. Who cares that they didn't license the movies, only Tolkien's books?
After all, you can still see that the schizophrenic anti-hero seems to be inspired by the cinema, and you can hear it too when he hisses angrily as Gollum and tries to soothe fearfully as Sméagol. After all, he wasn't always this strangely shaped creature, but a hobbit himself a few hundred years ago. Only the ring that Bilbo and Frodo later wear made him who he is at the time of the popular stories. What he experiences there and long before is little more than a side note for long stretches, and it will essentially stay that way. After all, a single game can't quite eclipse the 500 years that Gollum owned the Ring…
…it may, however, shed light on what happened to the poor wretch after he met Bilbo and was therefore imprisoned in Sauron's tower – only to be captured some time later by Aragorn and held in the Elven kingdom. And so The Lord of the Rings: Gollum takes place halfway in Mordor, while Mirkwood serves as the setting for later events.
As part of a presentation, publisher Nacon has now presented scenes from both locations for the first time and first of all made it clear what kind of game it is actually about. Or did you know that the book adaptation is part stealth action and part Tomb Raider-style climbing?
Safe: The straightforward hiding in bushes, destroying light sources and bypassing orcs didn't seem particularly extensive. However, in order to strangle them, Gollum requires sufficient stamina and also makes a lot of noise, so he should watch out for the right moment for such a charge. With thrown stones, he also distracts guards or to a certain position – in order to then lure the giant spider Shelob there, for which such an opportunity is found food. Only Gollum doesn't fight himself: if he is discovered, it's 'Game Over'.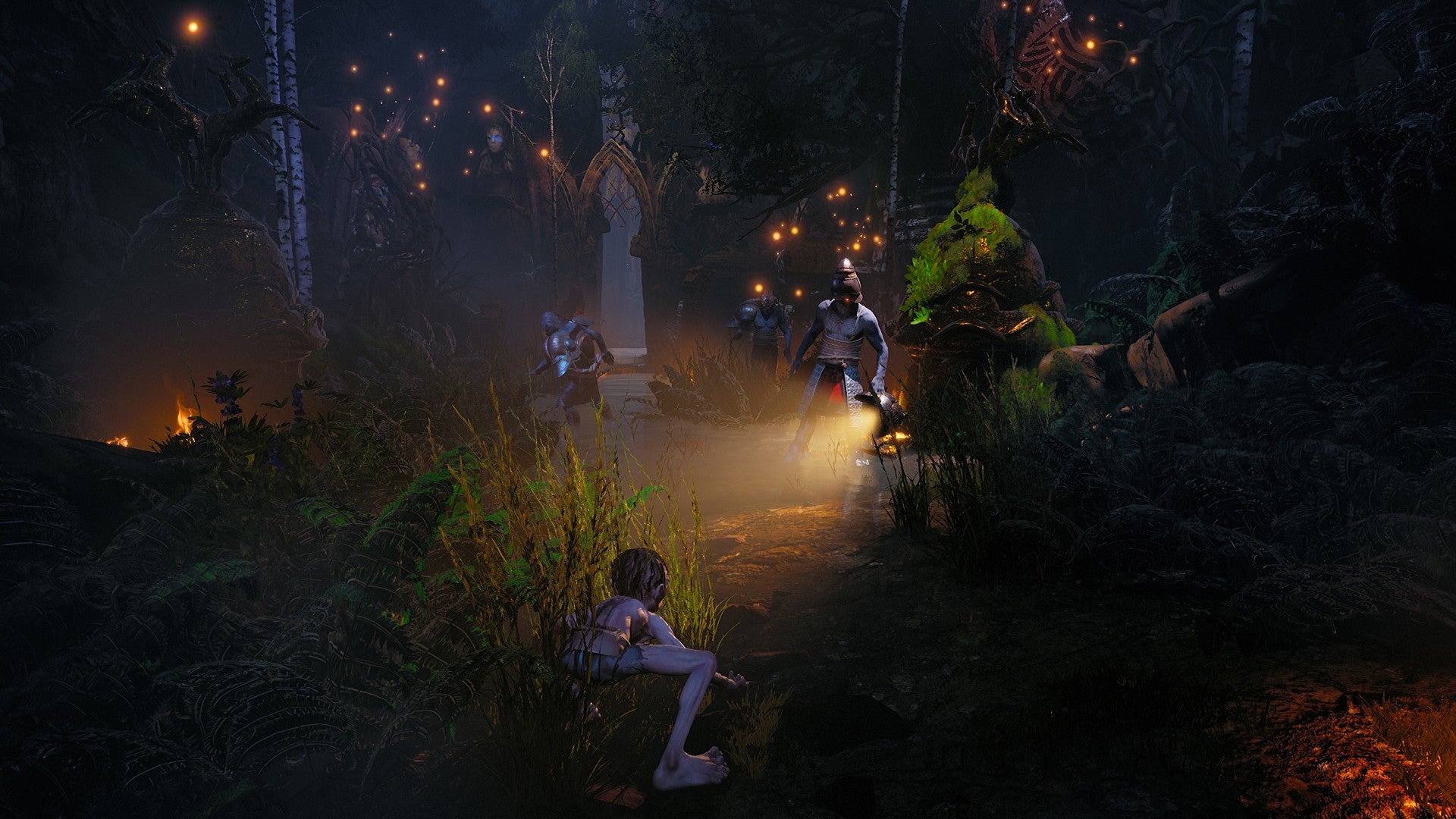 And when it comes to undisturbed exploration, Gollum should pay attention to his stamina so that he doesn't lose his footing when climbing up vines or shimmying along crevices in the rocks. Some paths only open up after solving small puzzles like "Watch out, we're locking this entrance using a mechanism that's embedded in the architecture of several rooms and requires demanding acrobatics at great heights!"
However, the puzzles shouldn't be difficult and if you still get stuck, you can switch on a special view at any time that marks interactive objects. If you don't know what to do, you can at least find valuable clues and also recognize when sneaking where Gollum can hide or manipulate the environment. Or you just choose a lower level of difficulty, while experts also make hard.
In any case, neither the stealth nor the scrambling or the puzzles seem to be in the foreground, because Daedalic emphasizes several times that it's all about the story. And according to the brief glimpse, this is told in extremely old-fashioned film scenes, but there should be quite a few of them and what's even better: you even make decisions that influence the course of the adventure. And by that I don't mean that Gollum often has a choice of path to choose climbing over sneaking or vice versa.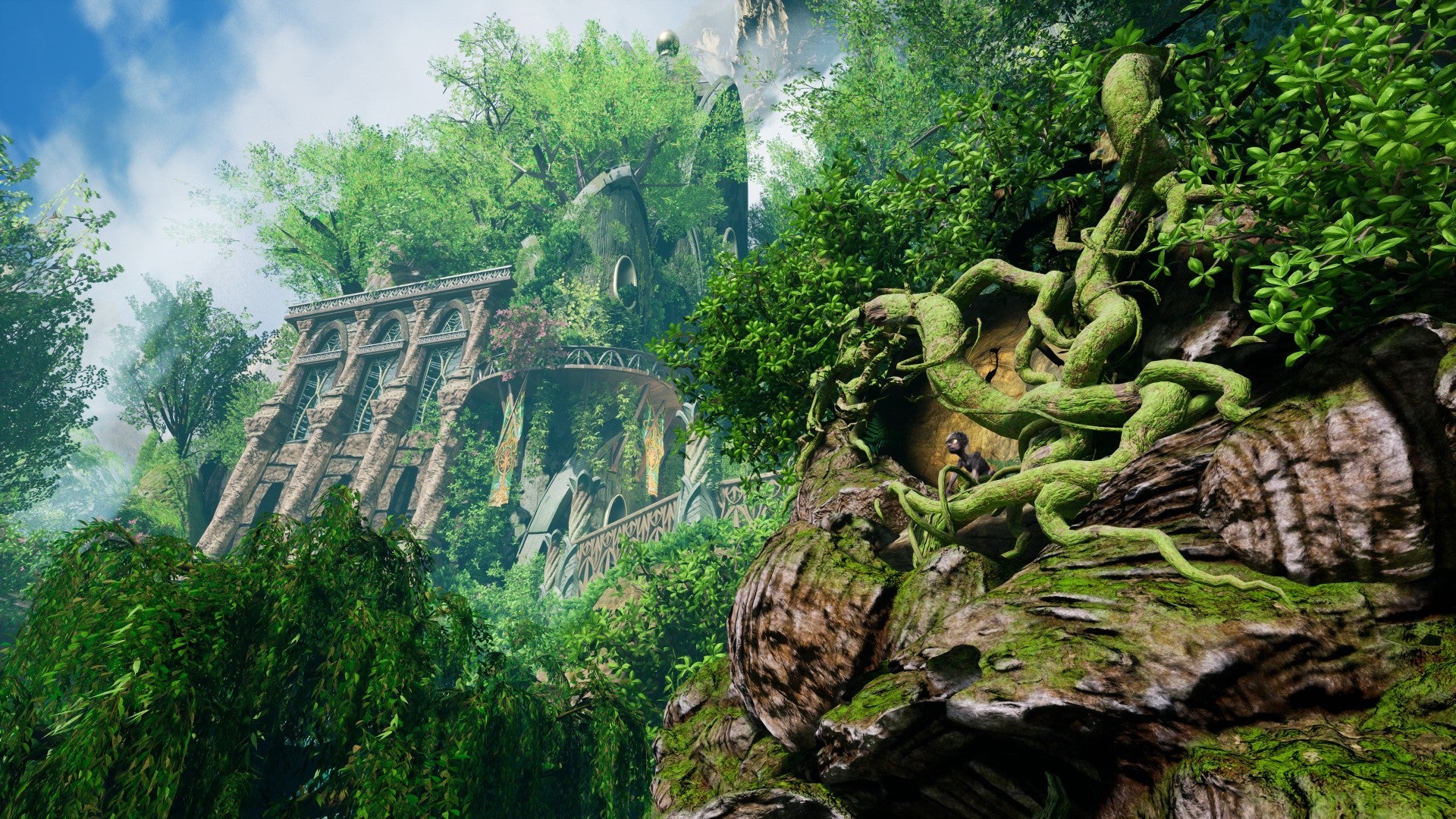 Rather, I mean that Gollum occasionally engages in discussions with his alter ego Sméagol, which you not only listen to, but sometimes even intervene in. In short multiple-choice dialogues, you then have the choice of following one voice or the other. The cautious Sméagol is not always right. Rather, through tricky decisions, it should be recognized, among other things, why it is so important for Gollum's survival that he can sometimes be Sméagol, but often also has to be Gollum.
So does Daedalic not only portray this inscrutable survivor as a slimy creature of darkness, but also shed light on his complex personality? The adventure forge has enough experience with exciting stories and that's why I'm quite confident that The Lord of the Rings: Gollum opens an interesting chapter in the great fantasy story. And at an undisclosed time this year, we should also know if they're succeeding.


Reference-www.eurogamer.de