Twitchcon 2022 in Amsterdam: Modern gaming with a sense of community
Twitter is growing. And while it might be hard to imagine for those who have never spent an entire evening watching a stranger play games, the streaming hobby is only growing – and rightly so. While Corona drove a big wedge into the private life of many, Twitch was a small salvation for some (including me), because even if you like to sit alone in front of the computer, you notice: In the long run, you still don't do it without other people Well.
These people, who have been staring at their screens at home for two years now – to put it polemically – have now been brought together at Twitchcon in Amsterdam and this shows that they are not just lonely, strange "internet people", but also real communities.
I took a close look at this big class reunion of geeks and experienced games, music, cheap merch and gaming personalities in a motley, creative, versatile and human way, but rarely also the opposite of community: class formation and personality cult.
A gaming community – with small exceptions
For me and others, Twitch has at least somewhat fulfilled the need for social interaction in recent years, but also gave the streamers the opportunity to present themselves creatively when all stages are closed.
That's why the Twitch community doesn't "just" consist of gamers or young hoppers, but of creative people of all ages and no idea is too weird. No wonder that the atmosphere at the event felt pleasantly colorful and diverse to me.
In terms of design, however, the entrance area already seemed to me to be heavily geared towards a younger audience, even though streaming is far more than just a teenage hobby. It doesn't matter whether it's a retro disco auditorium with a DJ booth made of Tetris bricks or goal wall shooting with a meme-worthy AI defender, everything looked really chic, but also purposefully "hip". For example, if I were a socially awkward gaming geek sober and just dancing to disco music in broad daylight, I'd have felt pretty silly, I'm afraid.
In addition to euphoric community encounters at eye level, Twitchcon was of course also characterized by hierarchies – whether you are a community member, affiliate or Twitch partner is written on the badge around your neck and immediately shows: important or not (in my case "unimportant" because I didn't get a significant press notice).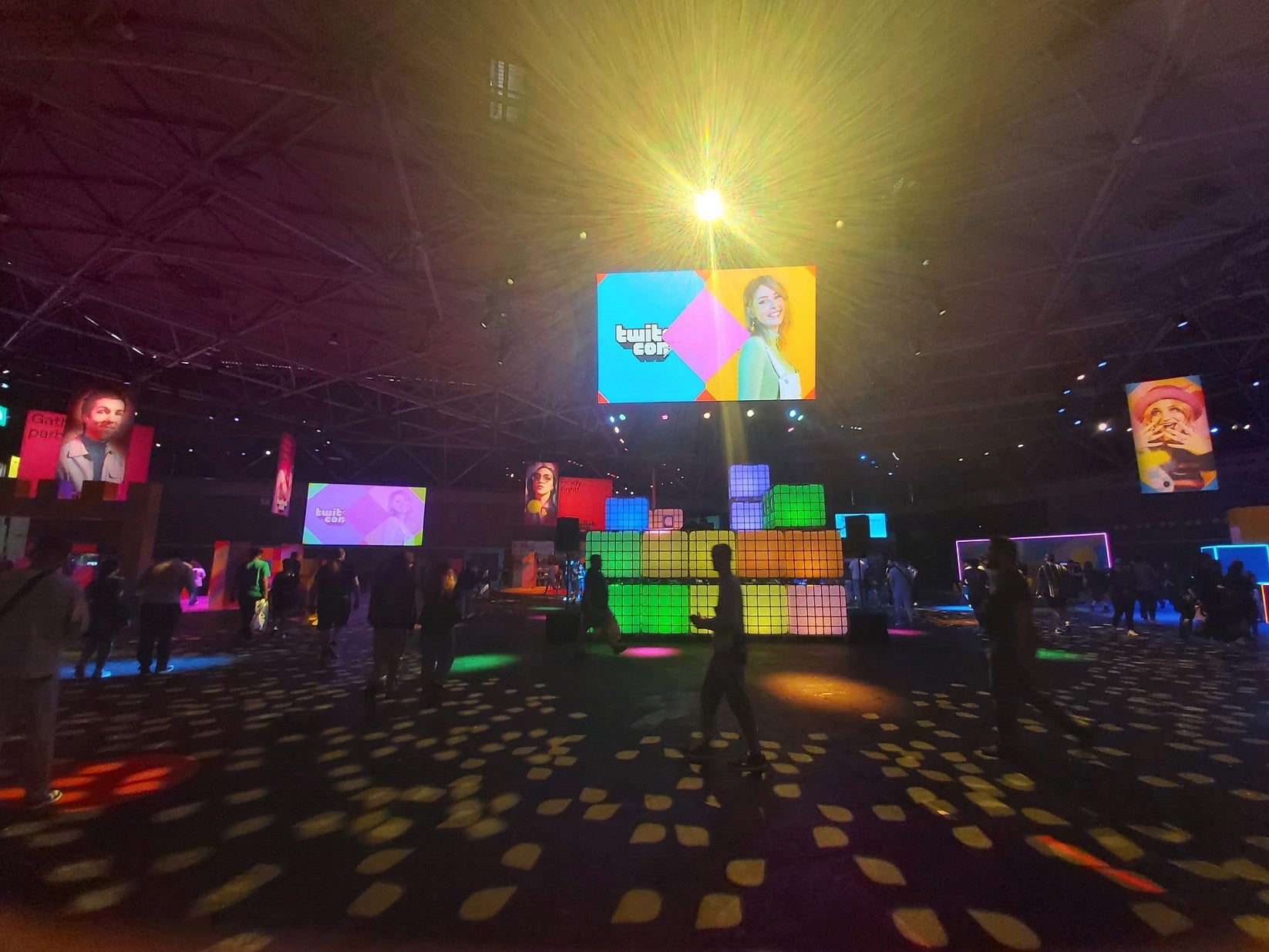 So while some groups roamed the grounds as normal buddies, there were also some radiant "celebrity personalities" such as Lara Loft, AnniTheDuck, Trymacs or Knossi (from Germany), some surrounded by enthusiastic admirers. It was quite a contrast between community and fan culture.
So the community feeling at Twitchcon is never 100% authentic. Finally, in addition to the "stage pigs," the streaming hobby also attracts shy or introverted people, many of whom you might not meet at a major live event, despite making up a massive part of Twitch. Such an event remains just a tiny, extroverted piece of the real Twitch experience.
If you've grown fond of each other over two years and are now meeting live for the first time, it's still a really exciting experience – for me too.
From Prime Gaming to Charity to Drag – Twitchcon was all of that
The fair itself had numerous exhibitors, as you know it from other gaming events, with most of the stands having to do with Twitch in the broadest sense, with streaming or with the corresponding sponsors.
For example, Twitch and Prime Gaming are related. That's why it didn't matter that nobody was talking about New Word anymore, there still had to be a large booth. Games like Fall Guys or Lost Ark were also represented, which are included with free item packages from Prime Gaming.
Companies like Sega or GIANT Games were also involved, but World War 3 might not have hit the nerve of the times in terms of content, but I left it out anyway. But there was an indies to marvel at, such as the current line-up of Team17 or the new demo version of Rusty Lake: The Past Within. This installment in the series mixes the loner genre of mystery point-and-clickd with co-op. What do you think Ana would think of a private session with the game?
Probably the most surprising status was Bloodhunt, the Battle Royale from the "World of Darkness" (I'll put that in quotation marks, you may know that I find Battle Royale in the Masquerade world only semi-suitable). Even if Benjamin didn't like it that much, Sharkmob's big, dim cube with a vampire castle atmosphere made a real impression at the fair. Photo walls, shirts, blood cocktails and more definitely attracted attention.
In general, of course, there was merch on every corner, sometimes useful, sometimes from the category that you take it with you and then ask yourself what you're actually supposed to do with it.
In addition to important tools for Twitch creators, such as the analysts from Streamdata or hardware providers such as Razor, there was also a lot for the good cause: There was also a charity area or the German platform betterplace.org, which helps streams on Twitch Collecting donations were represented.
The Artist Alley with numerous artist stands was more the Genshin Impact Alley for me, because you just couldn't avoid the cute anime characters on paintings, postcards and stickers – as a Genshin addict, I don't complain.
Then there were also panels and shows with bigger or smaller creators. However, the tension varied greatly between "I eavesdrop on people at the neighboring regulars' table because I have nothing better to do" on the one hand and really informative lessons on the other – but trying it out never hurt.
Of course, a cosplay contest with huge costumes was also mandatory. Apparently the motto was "more is always possible" and very nice to look at. For me, the stage highlight was the first drag show that ever took place at a Twitchcon. The performance with drag creators like Dona Tarte, Eevoh or Hungry was just an hour of pure, tongue-in-cheek fun full of creativity and ideas without reservations.
New features revealed for Twitch
Last but not least, something was announced during Twitchcon that is really relevant for everyone on the streaming platform, namely new functions that make you cheekily ask yourself: Why is this only available now?
On the one hand, messages can now be pinned to the chat and that is extremely useful, for example if you as a streamer don't want to answer a frequently asked question over and over again.
The tag system has also been revised and that was also necessary, because previously a stream could only have a few tags at the same time, now you can have up to 10, even with free text. The only question now is: Doesn't that cause chaos when searching for specific streams if there are mountains of individual tags? And how does Twitch control problematic tags? It remains exciting.
All in all, of course, there were many more impressions at the con, but you simply cannot reproduce everything – you simply have to visit the next trade fair yourself.


Reference-www.eurogamer.de