Call of Duty Warzone 2 Season 1 Release Date: Launch, Preload and All Info
The new Call of Duty Warzone 2 will be launched shortly and herald a new future for Battle Royale. While Warzone 2 will be further developed in the future, the predecessor as Warzone Caldera will remain playable on its own.
what you guys in Call of Duty Warzone 2 expected? We summarize for you in our Guide Everyone new content together, show you when it starts and when you with the preload can start!
Contents:
---
When does Season 1 start in Call of Duty Warzone 2?
The launch of Call of Duty Warzone 2 also coincides with the game's release.
The starting shot for the is planned November 16, 2022 at 7 p.m German time. As soon as the Warzone 2 servers are online, the first season will begin.
---
What's new in Call of Duty Warzone 2 Season 1?
For the launch of Call of Duty Warzone 2 and the first season you can expect a lot of innovations in the game.
Here is an overview of all the innovations:
Custom loadouts are back in Warzone 2. You can buy primary weapons from your loadout with in-match money in shops, find them as drops or in strongholds and black sites.
The loot system remains traditional in Battle Royale, but there is a new backpack system in DMZ. In Battle Royale you have a loot menu on certain loot containers and also on a player's backpack.
In the Gulag, two random duos now fight each other in a 2vs2. All get the same loadout, in the middle of the map there are more effective weapons. During the battle, a "Jailer" appears as an opponent who exerts more pressure. If both duos can defeat the Jailer, all four end up back in the match. But this requires cooperation.
You can only find AI fighters in Battle Royale in Strongholds, Black Sites and Gulag Overtime.
In Battle Royale, there can be up to three circles on the battlefield, which will get smaller over time. Where they are is determined at random. But in the end they all come together.
Conversations can be overheard by others in the area. So watch out if you say anything and if so, what. Or lures enemies on the wrong track.
In squad-based DMZ modes and special Battle Royale playlists, you have the opportunity to join forces with other operators to form larger squads.
By interrogating an opponent, you can learn the locations of enemy players in Battle Royale and DMZ.
The Heavy Chopper and the Hummer EV enter the game as new vehicles. Here are all the vehicles in game at launch:

atv
utv
hatchback
SUV (Default)
GMC HummerEV
cargo truck
Light helo
Heavy choppers
RHIB
Armored Patrol Boat

All vehicles consume fuel over time. If it runs out, you can no longer use the vehicle. But you can refill them with canisters or at gas stations. Damage can also be repaired at gas stations. Flat tires can be repaired anywhere in the world.
You can also fight in water, but not with your primary weapon. You can only use smaller weapons, melee weapons and throwing knives.
Each shop in the game has its own set of limited-edition items, including killstreaks, armor, and more. You can also bring back fallen squad members.
DMZ is a new mode focused on one story. You can complete faction-based missions and additional side quests, fight against operators and AI opponents, and search for valuable items while waiting to be collected.
During the Season, third-person playlists will be introduced into the weekly rotation.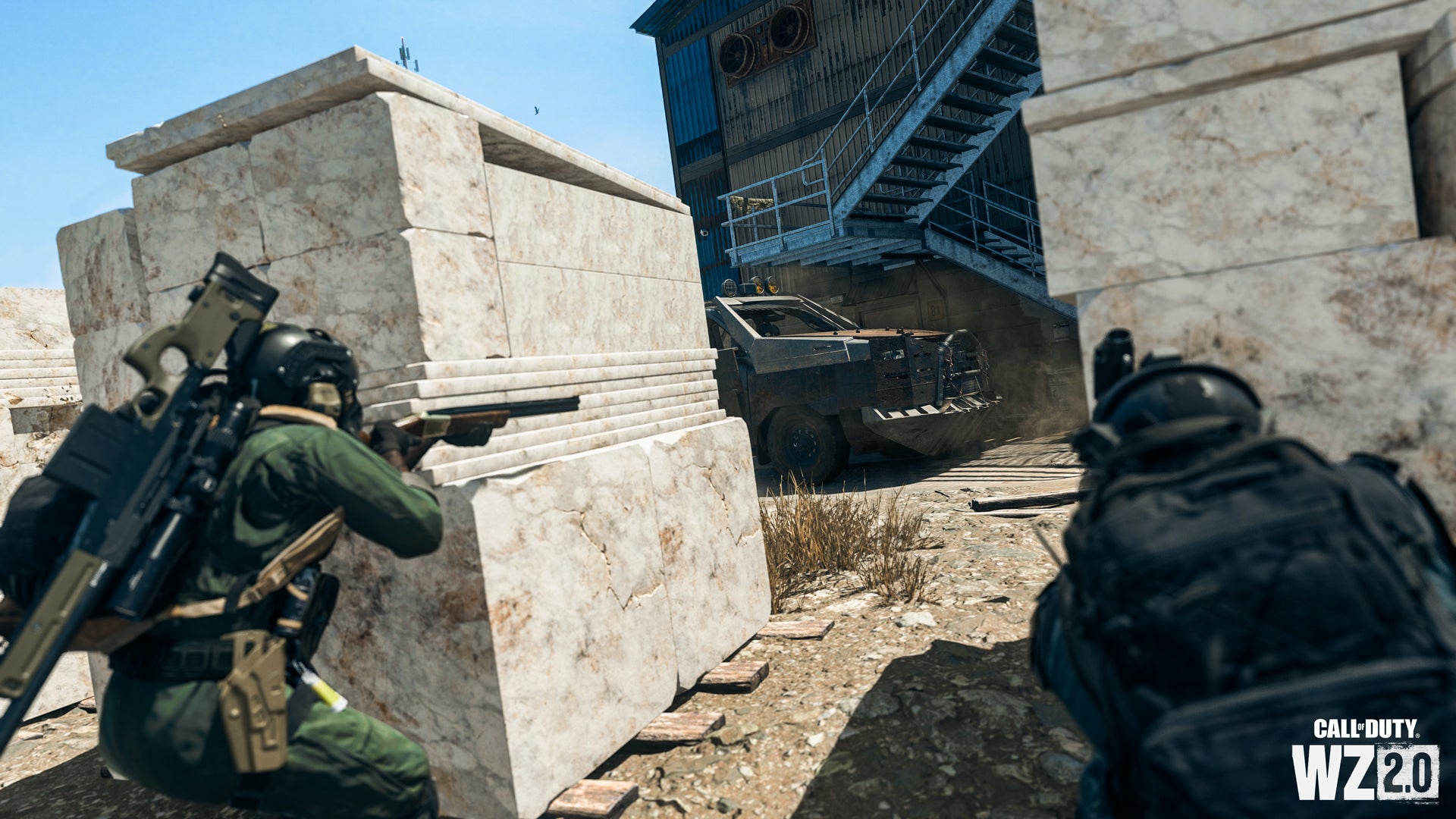 ---
When does the Call of Duty Warzone 2 preload start?
You'll be given a little time to pre-download Call of Duty Warzone 2 onto your device of choice, so you'll be ready in time for the launch of the game and the first season.
The preload starts on all platforms at the November 14, 2022 around 7 p.m German time.
Have fun in Season 1 of Call of Duty Warzone 2.


Reference-www.eurogamer.de