Treat yourself to a 3D printer this Christmas: five best deals and discount coupons at Anycubic
Whether you have thought of giving a 3D printer as if what you want is to get one for your own use, this may be the best time to buy a model of anycubic. Because the brand has several discounted printers as Christmas offers and even offers us several coupons with which they stay at more than interesting prices for all types of budgets.
Ordering a 3D printer on the Anycubic website these days is going to be cheaper for us, because in addition to the discounts that their prices already include, we can use several coupons to lower them even more:
For prices over 400 euros, we have the 30SITEWIDEwhich reduces us an extra 30 euros, while in prices above 200 euros we can use the CMAS3D couponwhich discounts us 21 euros, or the coupon 20SITEWIDEwhich reduces us 20 euros.
Anycubic Photon Mono X 6K
The most expensive model in the selection is the Anycubic Photon Mono X 6K. This printer is capable of printing models with a volume of 245 x 197 x 122mm. It sports a 9.25-inch 6K monochrome display with a high contrast ratio. It is capable of printing several full-size models at the same time and has a high printing speed.
With a usual price of 689 euros, we find it now reduced to 469 euros, but if we apply the coupon 30SITEWIDE when placing our order, we are left with some interesting 439 euros. Our savings will be 250 euros.
Anycubic Photon Mono X2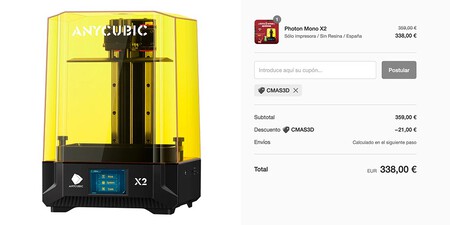 For less money, we can also get a Anycubic Photon Mono X2which we find reduced to 359 euros from 479 euros, but if we also apply the CMAS3D coupon O well 20SITEWIDEwe can take it for 338 euros (or 339 euros), thus saving a total of 141 euros.
This model offers us a 9.1-inch monochrome screen with 4096×2560 resolution, print volumes of 200x196x122mm or a 3.5-inch TFT touch control panel, among other features.
Anycubic Photon Mono X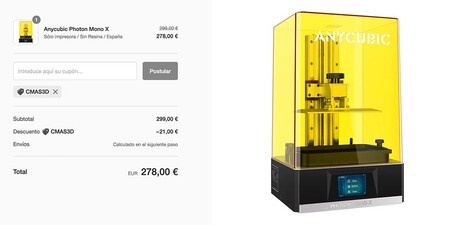 A little cheaper we still get the Anycubic Photon Mono Xwhich is normally not cheaper than the previous model, costs 549 euros, but which we find reduced to 299 euros, and with the CMAS3D coupons either 20SITEWIDE we stay in 278 euros (or 279 euros with the second code).
In this case we have a 6.23-inch LCD screen with 3840x2400px resolution for printing, a 3.5-inch touch control panel or a 165x132x80mm print volume.
Anycubic Photon M3
Normally at 336 euros, the Anycubic Photon M3 we stay in 238 euros instead of the already reduced 259 euros, after applying the CMAS3D coupon (or the 20SITEWIDEwhich leaves it at 239 euros).
In this model we find a 7.6-inch print screen with 4098x2560p resolution, a 2.8-inch touch control panel or a print volume of 180x163x102mm.
Anycubic Kobra Go
Finally, the cheapest of the selection is the Anycubic Kobra Goa basic model that offers a print volume of 250x220x220mm, easy removal of the models and has a 2.4-inch LCD screen.
In this case, we have reduced it from 229 to 209 euros, but if we also apply the CMAS3D couponwe stay in 188 euros (or at 189 euros with the coupon 20SITEWIDE. Us we will be saving 41 euros.
more offers
If you sign up for Amazon Prime, you have a 30-day free trial (after 49.90 euros per year) to enjoy free fast shipping, priority access to offers, services such as Prime Video, Prime Music and unlimited photo storage. Also, if you are a student, becoming a Prime Student costs half as much and you have a 90-day trial. You can also try services like Kindle Unlimited or Audible free for 30 days.
You can be up to date and at all times informed of the main offers and news of Xataka Selección in our channel of Telegram or in our profiles Twitter, Facebook and the magazine flip board.
Some of the links in this article are affiliated and may benefit Xataka.


Reference-www.xataka.com