The Settlers: Testing New Alliances – Not a bad game, but…
Series fans will be disappointed by the new part due to its lack of depth, but it is basically playable.
I'm not sure if Ubisoft Dusseldorf themselves knew exactly what they wanted to do with The Settlers: New Alliances. On the one hand, with Die Siedler you have a well-known and long-standing IP up your sleeve, on the other hand you might want to do things differently. The two don't always go well together, as the heavily criticized beta showed more than a year ago. Now The Settlers: New Alliances is here and presents itself as a double-edged sword. How much you like it depends largely on your expectations and requirements.
Ask yourself this: Do you want a pure, unadulterated Settlers experience like it used to be? Then maybe you should throw in one of the classics and have fun with it. The Settlers: New Alliances is struggling with his legacy. On the one hand, it wants to pick up on that and it does, but on the other hand, the depth falls by the wayside.
Beautiful settler world
But let's start with something nice. Literally. The Settlers: New Alliances are powered by Ubisoft's Snowdrop Engine, which you know from The Division, for example. In the new settler part, she conjures up beautiful, colorful and inviting landscapes on the screen. On these lush green meadows and on the inviting sandy beaches with their crystal-clear water, you want to go on holiday yourself and forget all your worries.
So it's always nice to look at, you also have interactive elements such as waves, fish and other animals that bring the landscape to life. Building in the midst of these great sceneries is just as appealing. The buildings are designed in detail and invite you to take a closer look at everything with maximum zoom level. Piece by piece, your settlement with houses, production facilities and buildings for raw material processing, as you know it, is created.
Island hopping settler style
On the one hand, a 13-mission campaign awaits you in The Settlers: New Alliances. This revolves around your tribe who have to flee their own island. On their escape, they travel to other islands, where they meet new factions – both friendly and hostile. All of this is embedded in a narrative with a series of cutscenes that advance the story.
Don't expect too much originality from this story, though. It doesn't really stand out, but everything fits to tie the game and what you do together. Away from the campaign, you can compete in skirmish matches with up to 16 players. And we do it cooperatively and competitively. Games against the AI ​​are of course also possible.
One aspect that makes you wonder what it's doing in a Settlers game is the in-game shop. There are two currencies you can use to purchase cosmetic items for your desired faction. Luckily this doesn't affect the gameplay, but you can actually buy things with real money. Goes on the list of useless innovations. Since everything is only cosmetic, you can safely ignore it.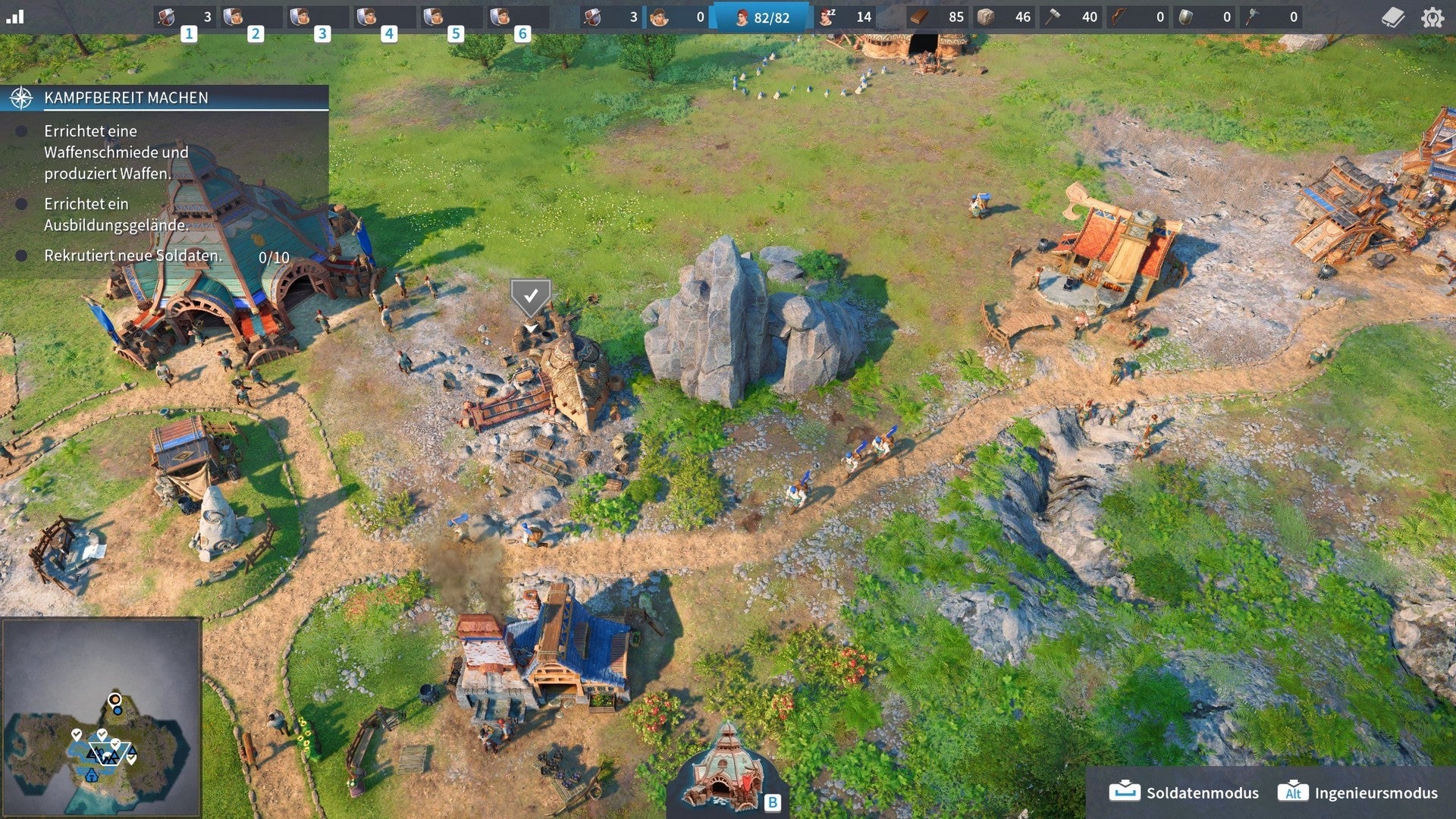 The gameplay as the sticking point
Where opinions are likely to differ with The Settlers: New Alliances is the gameplay. If we look at the whole thing from the perspective of those who may have already grown up with the Settlers series, this is more than understandable. The basics of an economic system or cycle are also present in this game. You collect wood, stones, coal and other things, use them to craft buildings, tools and weapons.
With the latter you create three types of combat units, while your engineers take care of constructing buildings and roads, expanding your territory and searching for raw materials. Extremely important units, then. But first back to the raw materials. The problem is that The Settlers: New Alliances is more superficial than deep. The production chains are kept simple. For example, food is no longer an essential raw material, but rather serves to temporarily increase the output of a production facility.
You no longer need water to make bread, and a ranch produces meat as well as donkeys. Everything has been streamlined and simplified, so to speak. You can also understand that series fans are not exactly enthusiastic about the new system and its lack of depth.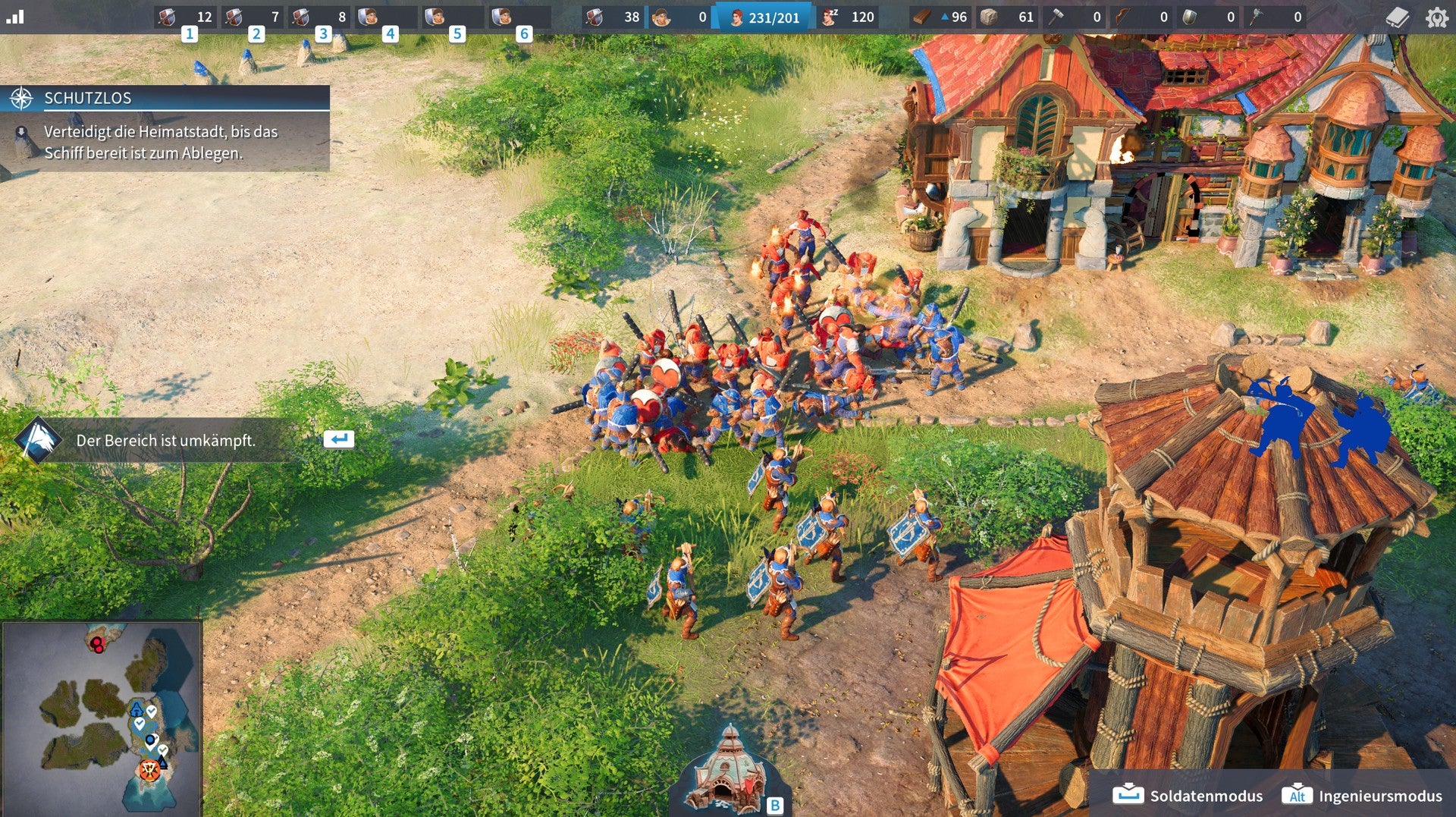 Unfortunately, on the military, strategic side, things aren't getting much better. The same applies here: Everything that is available works in principle. Overall, the RTS part plays a bigger role, so ultimately it's always about building a strong military and defeating your opponent. Its slow pace doesn't always benefit the game, however, as units first pick up their gear from storage and then march off to the Training Grounds before they're fully recruited. It's always nice to look at, but it quickly looks different.
In terms of strategies and procedures, The Settlers: New Alliances is also quite simple. Sure, The Settlers has never been a sprawling real-time strategy game, but if the focus is more on combat, perhaps a little more options and tactics could have been implemented. Once you've assembled your army, you simply send them (at a leisurely pace) towards the enemy. Eventually everyone will fall for each other anyway, and all you really can do is watch and occasionally trigger an ability that gives you a small advantage.
As I said: From the point of view of a veteran Settlers fan this may all sound catastrophic and you can be right about that. Leaving that aside, and perhaps ignoring the legacy behind the game's name, The Settlers: New Alliances can still be enjoyed. Even if it was a bit too slow for me at times, I had a thoroughly relaxing feeling while playing. Enjoying the beautiful landscapes, building everything up, that still exudes its appeal. But just when there should be more to you beneath the surface, the game doesn't deliver.
The Settlers: New Alliances – Conclusion
And that's ultimately the biggest problem of The Settlers: New Alliance for everyone who loves this series. It remains too superficial in what it does. In this respect, the criticism from the fans is absolutely understandable and one wonders why the developers took this step. For accessibility reasons? Not that The Settlers is a series that draws crowds. Conversely, for any casual gamer who might be more attracted to the simpler gameplay, you're likely to alienate a long-time fan. In the end nobody wins.
There is a lack of depth and production chains that go below the superficial. An Age of Empires has more to offer than that. Or an Anno 1800. It all seems strange, especially since there was corresponding beta feedback early last year. But whatever, it is what it is. And yet: What The Settlers: New Alliances delivers – seen without fan glasses – works. It may be superficial, but it runs smoothly. It looks extremely pretty. And has a relaxing effect when playing. So I don't want to demonize The Settlers: New Alliances, I enjoyed it. But before you buy it, you should be absolutely clear about what you expect and want from a settler game.
The Settlers: New Alliances Rating: 7/10
The Settlers: New Alliances – Pros and Cons
Per:
Nice detailed graphics
The playful elements that are there work
13 missions campaign
Competitive and cooperative multiplayer for up to 16 people
---
Cons:
Lack of depth in economic system and RTS battles
In-game shop feels unnecessary
Campaign story isn't really engaging
Developer: Ubisoft Dusseldorf – Publishers: Ubisoft- Platforms: PC – release: 02/17/2023 – Genre: strategy, real-time strategy – Price (RRP): €59.99


Reference-www.eurogamer.de