World Championship Boxing Manager 2 Review – Part Two After 33 Years, But Was It Necessary?
World Championship Boxing Manager 2 offers solid box management that lacks depth and gets repetitive quickly.
One or the other may remember a game that appeared in 1990: World Championship Boxing Manager. In terms of scoring, it didn't tear up any trees at the time, but it was probably okay. Now, a full 33 years later, publisher Ziggurat and developer Mega Cat Studios have created a sequel to it. Under the completely unspectacular name World Championship Boxing Manager 2 they want to make you a boxing manager. Victory on points or KO in the first round?
Live and let fight
Well, ultimately neither one nor the other. World Championship Boxing Manager 2 is neither particularly good nor particularly bad. Which is okay I guess. You can have fun with it, but this is primarily for those who are more inclined to boxing. Your goal in World Championship Boxing Manager 2 is relatively easy to explain: be successful. However, you don't step into the ring yourself, you try to help other boxers to succeed.
Various factors come into play, such as whether they are doing well, whether they are satisfied, how good their training was. Can you imagine. Of course, your stress level should not be too high either. On the one hand, you can play in the story mode, which, among other things, introduces you to the game and its mechanics. A good start with a few dialogue options, but here too you notice that the actual gameplay quickly repeats itself.
In order for your protégé to develop, you define training activities. But you have to be careful not to overdo it. There is only limited energy available with which you can increase certain values ​​during training. If it's too much, your stamina will drop and you may be at a disadvantage on the day of the fight. There you don't have a very big, active role.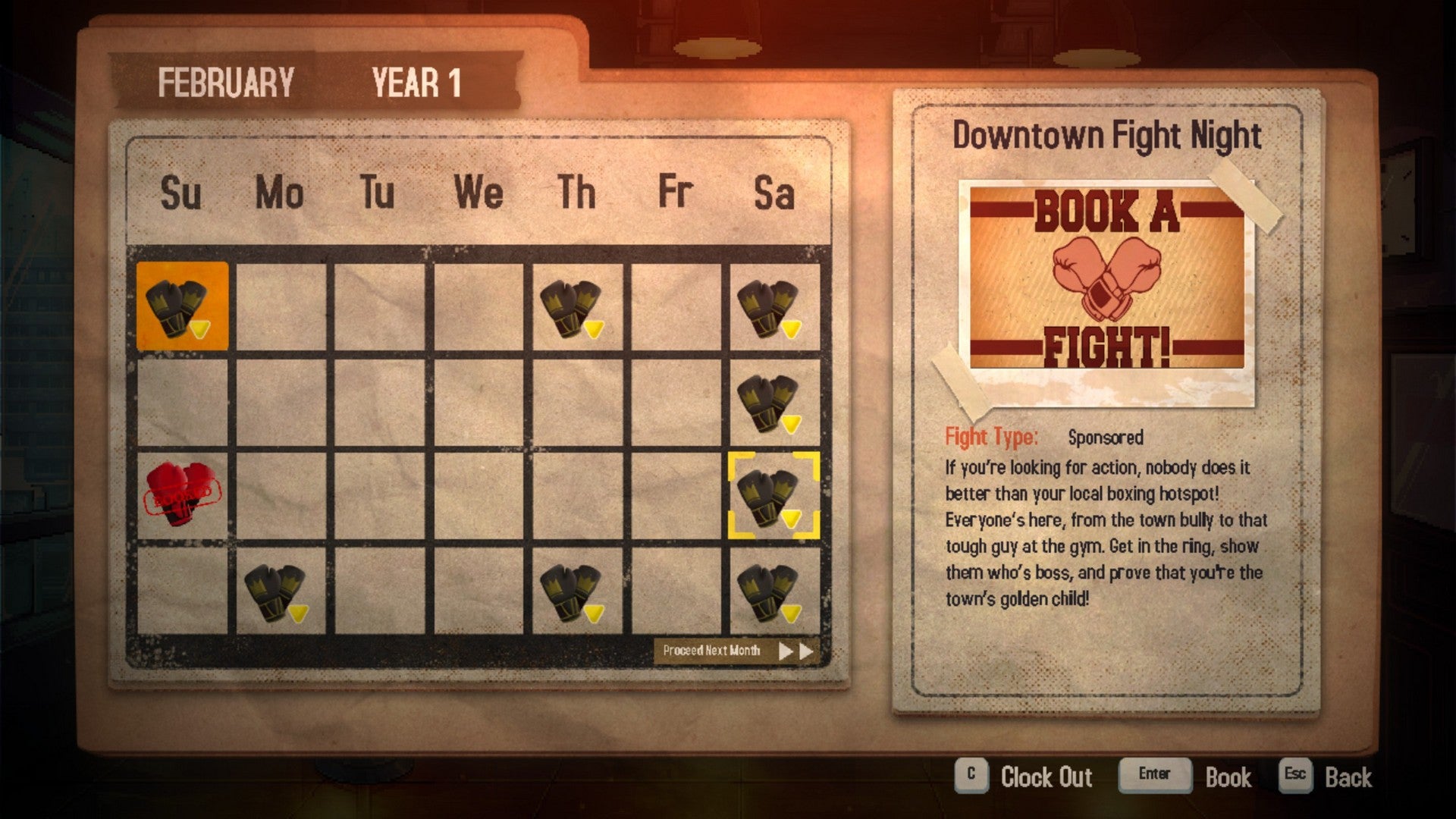 At the beginning you choose a specific style, whether your protégé acts offensively or does not pursue any special tactics. This strategy can be adjusted between each round, so you can, for example, be more aggressive for a while and then take it easy before your stamina becomes too critical. Furthermore, you apply various items with which health and stamina are either permanently or temporarily strengthened. But that was about it. That's all you have to do. Choose these things and watch your boxer do. Ultimately, everything depends on values ​​and chance.
More stress in career
If the management is still relatively relaxed with a boxer in story mode, it gets a little more stressful in career mode. Here you can take several charges under your wing, which requires much more extensive planning in terms of training and combat. And you also have to take care of things like happiness and health. In short: the more boxers you have, the more time you have to invest.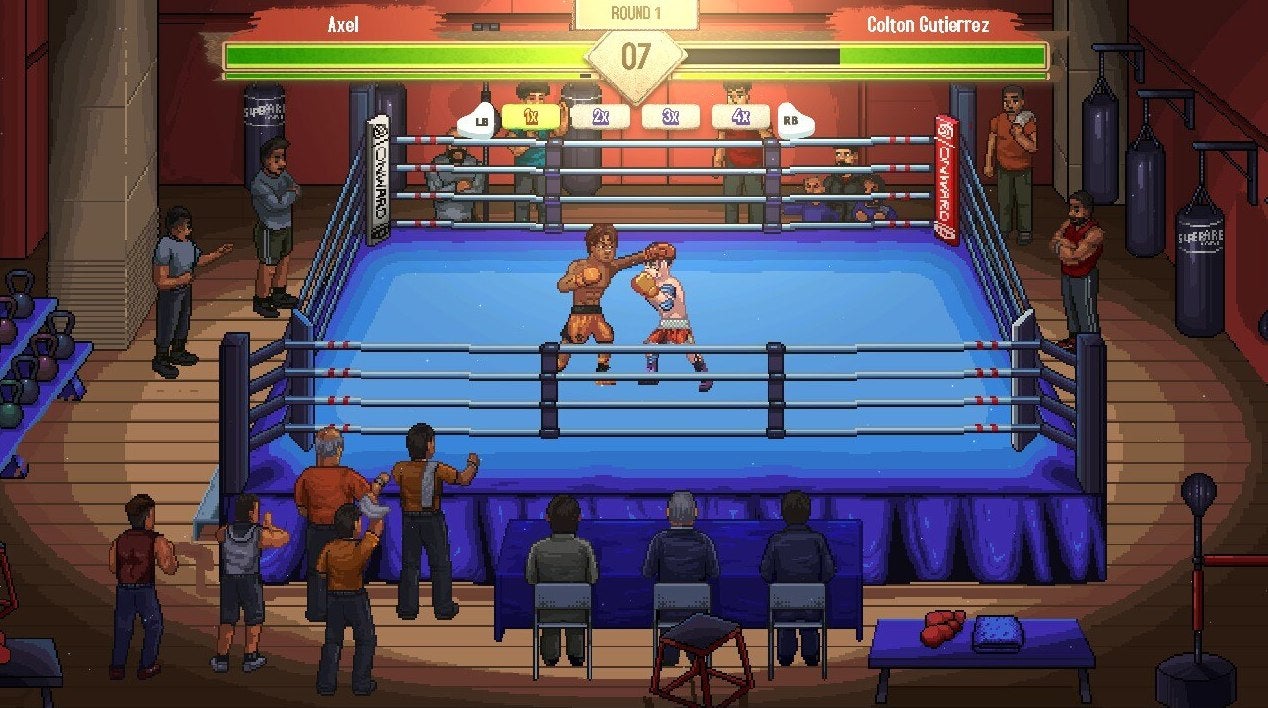 Ultimately, that doesn't change anything about the fact that everything always runs the same way. Individual areas such as the clinic or the training center can be improved, but World Championship Boxing Manager 2 definitely doesn't go into as much detail as, for example, a football manager from Sports Interactive does. Everything remains rather superficial, which is a shame. More options in combination with more optional automatisms would not have hurt.
Visually, the World Championship Boxing Manager 2 is quite nice to look at, the pixel look is reminiscent of the SNES era and the music also goes quite well with it. Its disadvantage is that it is very repetitive, which in turn fits with the rest of the gameplay.
World Championship Boxing Manager 2 – Conclusion
I'm not really a boxing fan, but I like to try out management games other than soccer here and there. Basically, I like the retro look of World Championship Boxing Manager 2. I can live with management games not being as obsessed with detail as Football Manager, but this is too superficial for me. The idea is nice, the execution is not ideal. Ultimately, World Championship Boxing Manager 2 offers me too little variety in the long term and, apart from strategy and items, there are just as few opportunities for interaction in the fights. Real boxing fans might stick around a little longer, but everyone else should lose interest quickly.
World Championship Boxing Manager 2 Rating: 6/10
World Championship Boxing Manager 2 – Pros and Cons
Per:
Nice graphic style
Fresh genre
Easy entry
---
Cons:
Repeats itself playfully quickly
Career can be stressful
Management part remains superficial
Developer: Forgotten Empires / Tantalus – Publishers: Xbox Game Studios – Platforms: Xbox Series X/S (tested), Xbox One – release: 01/31/2023 – Genre: Strategy – Price (RRP): €19.99


Reference-www.eurogamer.de