NHL 23: Bigger, more detailed, with cross-play and flying caps
Even with presentations of video games, you sometimes learn things that you didn't know about the real sport of ice hockey. For example, fans en masse toss their caps on the ice when an away player scores a hat-trick. Maybe not new knowledge for you, but for me it is. While I like ice hockey as a sport, I don't watch it regularly. In any case, you can now prepare yourself for the fact that this will also happen in the upcoming NHL 23. A lot of virtual caps are flying onto the shiny ice here. It's one of those small but fine details that make a game like this just that little bit more authentic.
Similar to FIFA 23, NHL 23 has a woman on the cover for the first time this year. Canada international Sarah Nurse and rising star Trevor Zegras of the Anaheim Ducks have been selected as cover athletes for 2023. One of the biggest innovations in NHL 23 is playing together, because cross-platform matchmaking comes into play.
First of all only in a limited form, namely for the modes EASHL and HUT. And for the moment also with further restrictions. For the sake of simplicity, here is an overview:
PS4: With and against other PS4 players as well as against Xbox One players
Xbox One: With and against other Xbox One players as well as against PS4 players
PS5: With and against other PS5 players and against Xbox Series X/S players
Xbox Series X/S: With and against other Xbox Series X/S players as well as against PS5 players
In the future, however, this function is to be expanded, for example to include cross-generational matchmaking pools and the WOC and mixed clubs modes. However, it is not yet clear when that will happen exactly.
Last chance for special promotions
That's at least once a technical aspect, more about the technology later. First of all we devote ourselves to the playful improvements and here there is one or the other to report. These are "Last Chance Puck Movements" that the developers say are inspired by Zegras' actions on the ice. They are almost acts of desperation, because you have the opportunity to shoot the puck or pass if you stagger. At such moments, when you are about to lose the puck entirely, you need to quickly double-press the pass or shoot button. There should be more than 500 special animations for this new feature. This should loosen up the action on the ice and make it more dynamic.
Other improvements include an overhauled goalie AI. They too are now making more effort to prevent goals, resulting in more than 350 new save animations, according to EA. Another point concerns the X-Factors. Expect some general tweaks here, while specific X-Factors will see targeted changes. With the X-Factor "Tape to Tape", such players take more risks with backhand passes in distress or are more willing to let you have the puck in the offensive zone.
At the same time, two completely new X-Factors come into play. Relentless improves skill and accuracy when you stagger after contact and fire off another shot or pass. Skilled Up, in turn, improves lacrosse moves.
You can get more options in the PP and PK strategies. These should be able to be adapted to your wishes with the help of new tools by defining formations, assigning tactics and assigning special roles. New formations are also added (1-3-1 PP, 1-3 Wedge PK and 3 Player PK) and you determine whether individual players focus more on passing the puck or shooting on goal. The goal is more individual and personal tactics.
More unpredictable and with women in HAT
In general, the matches should be "more unpredictable than ever". On defense, more emphasis is placed on hard hits and poke checks to open up counter opportunities. At the same time, there are new possibilities on the offensive that should ensure that you have to protect yourself against a wider range of attacks on defense. Everything should be authentic, but fun comes first.
The custom franchise mode also has more individual options. You can choose anything from a range of six to 48 teams, determining salary caps, length of season and numerous other factors such as point distribution, wild cards, number of qualifying teams and so on. If you want to customize your league, you've come to the right place.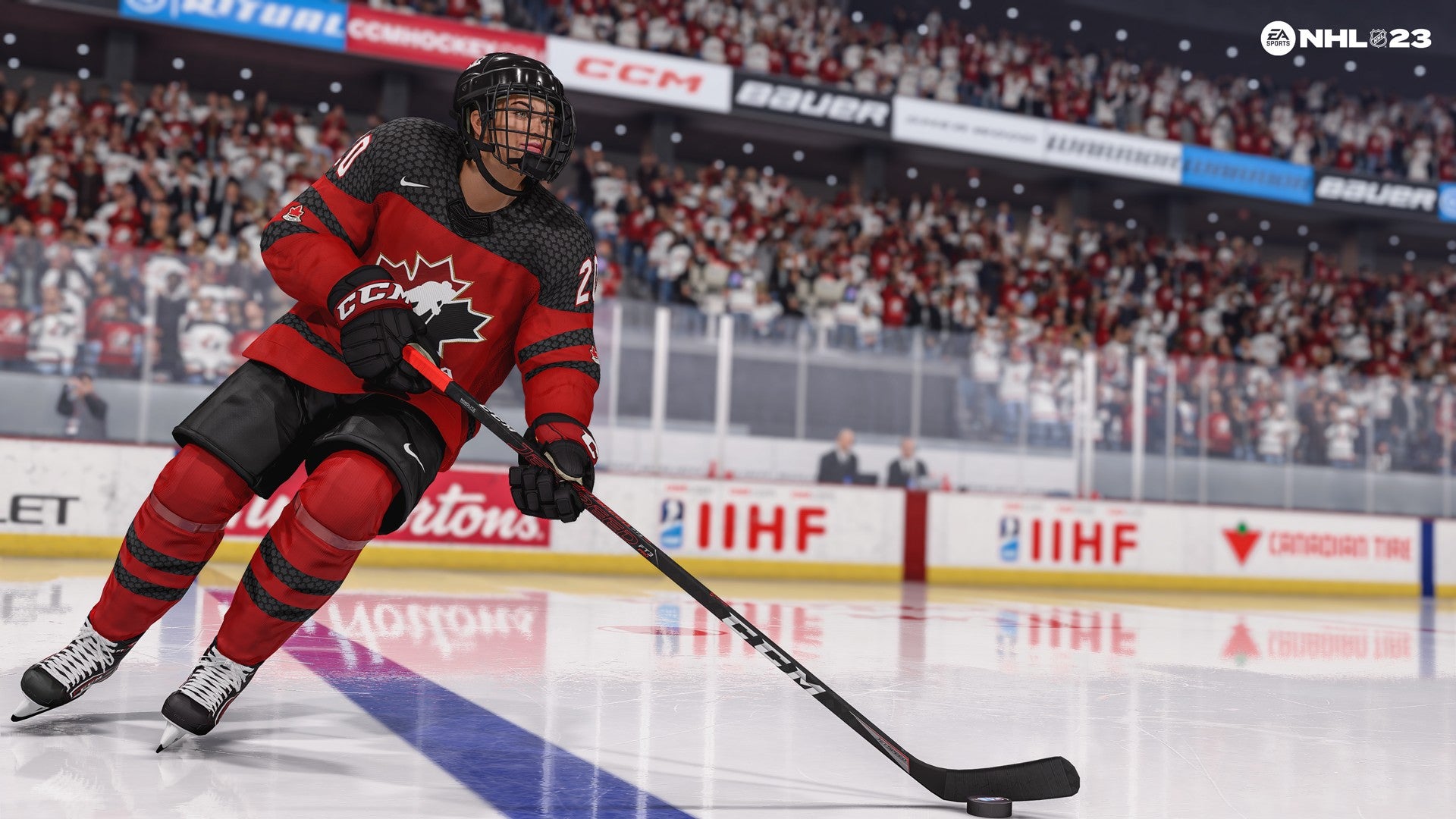 Coming to Ultimate Team, there are a few important things happening here as well. On the one hand, this affects the HUT Rivals playlist. We want to give the players good reasons to return regularly and deal with it. Ten alternating playstyles are designed to provide variety, while you can quickly earn rewards through win-based quests. For the "top players" in the higher divisions there should be more valuable rewards.
The second important factor is the introduction of HUT cards with female players. And you can even combine these cards with the players in your Hockey Ultimate Team and thus have mixed teams. This should give you more opportunities to build your own team, but it doesn't make a big difference in terms of play, the developers emphasized during a presentation. A conscious decision was made not to separate players from each other. In other words, full equality in terms of values ​​and the like, if you will.
What is technically happening in NHL 23
Finally, we deal with the technical improvements, here too there is a lot on the agenda. One area EA Sports has been working on this year is crowd awareness of the game. Previously, certain reactions were triggered after certain events, such as after a goal. In NHL 23, viewers also consider the game's history, changes in momentum, and time remaining. All of this influences how strongly they react to what is happening. The audience should feel more dynamic and realistic overall.
An example of this would be a relieved reaction after a team manages to get out of a pressure situation. Or special joy after an important goal while away players are booed. And then there would be the cap throws mentioned at the beginning.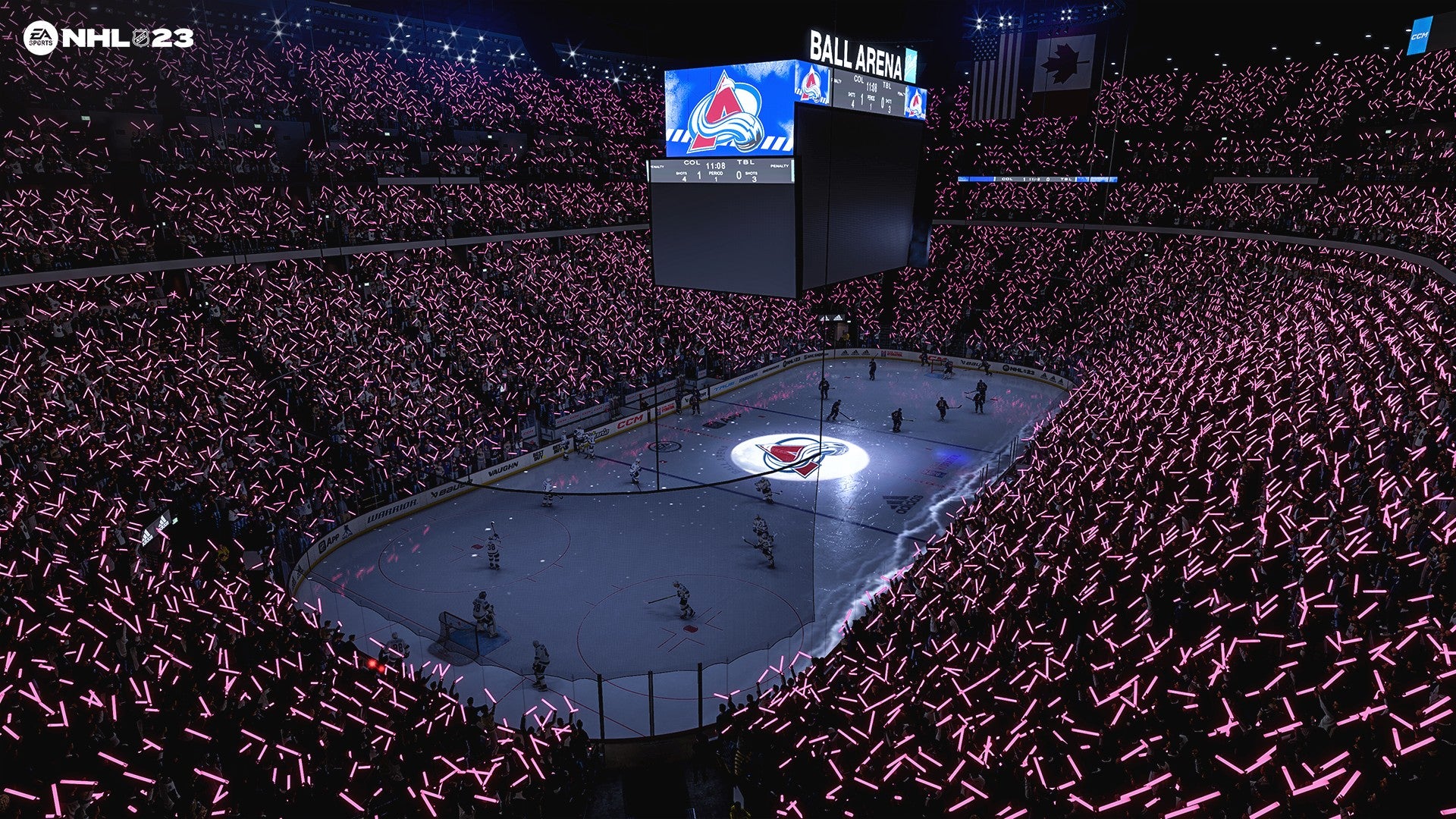 Expect further improvements to the in-game character models (unique traits, skin imperfections, lighting and eyes), as well as new materials for the Creation Zone, including metallic looks, allowing you to customize your gear accordingly. We've also got lighting improvements across the board, including additional shadows on the boards or on the reserve players. The ice shows more detail and scratches over time, ice thrown up by the skates even flies against the rails and sticks there. However, there are no gaming effects from such smaller accumulations of ice on the playing field and so on. Looks nice up close.
In short: ice hockey is ice hockey, but that was to be expected. The new gameplay options look promising and could make the overall action (along with the improved crowd reactions) more dynamic. It's also nice to see that women are finding their way into NHL 23, and that there will even be mixed teams in HUT. For FIFA or EA Sports FC, as it will be called in the future, that still sounds unthinkable. Overall, this sounds like a game with major and minor improvements that you can have fun with again starting October 14th.


Reference-www.eurogamer.de